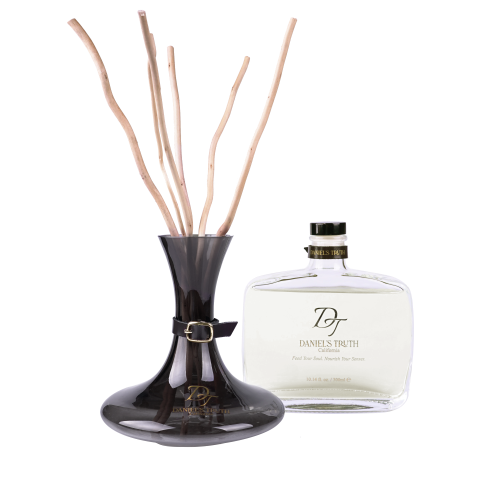 INGREDIENTS

Plant alcohol base (dipropylene glycol methyl
ether acetate), fragrance (peony oil), fragrance (blueberry oil), fragrance
(vanilla oil)

HOW TO USE

① As the total diffuser solution is 250ml and the empty crystal bottle holds 200ml, do not pour the entire solution into the empty bottle. Rather, pour only half the amount into the empty crystal bottle.
② For first time use, use 10 of the 15 bamboo reed sticks provided. After 6 months of first use, place the remaining reeds and diffuser oil.
③ As if watering a flower, rotate the reeds 180 degrees 1-2 times a week.
④ Instead of disposing the reeds after first use, place in, for
instance, a shoe rack, for an extra 1-2 months of scent.

 

PRECAUTIONS

– Do not drink.
– Do not use diffuser solution in the form of a spray.
– Do not use product other than for its intended purpose.
– Keep out of reach of children and pets.
– People with sensitive or damaged skin should not be in contact with diffuser for long.
– If the contents are spilled, please clean immediately. (If the content is left uncleaned for a long period of time, it will cause color disfiguration. The seller has no liability or responsibility to compensate for the damage caused.)
– Do not throw or drop the diffuser.
– Ventilate thoroughly when using.

MORE INFORMATION

[Distributor] DM Cosmetics. INC
[Country of Manufacture] USA
[Volume] 300ml
[Expiration Date] 3 years from the date of manufacture
[Quality Assurance Standards] If there is a defect or problem with this product, it can be refunded or exchanged.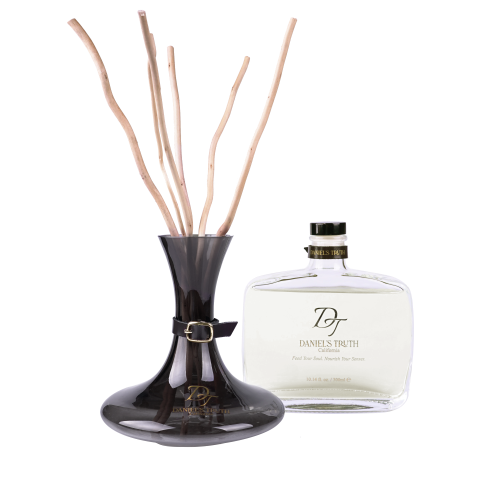 - Diffuser Decanter to Maintain the Finest Aroma

Daniel's Truth Reed Diffuser implements a wine decanter for aged wine to emulate the rich taste and aroma of fine wine. When the wine is transferred to a decanter, it oxidizes, ensuring the finest aroma and taste. Precisely, this process is known as 'breathing'. Daniel's Truth fragrances and base used in the diffuser are aged for a specified period, similar to wine, in order to produce a premier fragrance. In essence, the decanter's curved shape is designed to maintain the best aroma when the fragrance encounters air.


- All Natural Willow Reed

The reed used in Daniel's Truth diffuser is a branch of a willow that flourishes in the mountains for more than 6 months. The branch is dried and used in its natural state without chemical treatment. The diffuser decanter and wild willow reed produce impeccable fragrance and durability, manifesting luxury in its natural form.
Blended with Peony, vanilla scented flowers, and
purple berries (blueberries, aronia, figs) to
relieve tension and create a soft and sensual scent.